Let's stay at Japanese temples and shrines!

A shukubo is an accommodation facility that is part of a Japanese temple or shrine.

Tranquility and the beautiful scenery of Japan, as well as abundant spiritual culture such as harmony and zen, lie within.

A shukubo is an accommodation that lets you feel the culture and history of Japan, including zazen, which calms your mind, Japanese gardens, which show seasonal beauty and healthy shojin vegetarian dishes.

We are studying how to enjoy staying at a shukubo.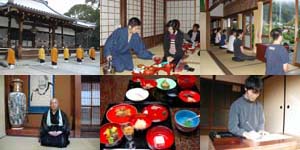 ---
Last Update 2014/07/05
---
facebook